Business context
There are many organisation segments where IT Operations functions into Network operations centre (NOC), Security Operations Centre (SOC) and IT Operations Centre (IOC). Each of these operations centres have a clear remit and focused expertise, but are increasingly finding their functions overlapping with each other. We have seen this elsewhere with the creation of DevOps and SecDevOps, and Expertware is increasingly aware of the need for these different IT disciplines to work closely together in order to facilitate new technology innovations and proactive security solutions.
Our Solution
Expertware has created its Next Generation SOC solutions to meet the needs of modern IT services such as Multi-Cloud. All of the skills from the NOC, SOC and IOC are gathered under a single management structure that enables collaboration and innovation between the distinct disciplines.
The Expertware IOC brings together all the skills required to quickly and proactively manage the entire IT environment either as an outsourced provider of one or more services or as an integral part of your IT operations organization.
Security Operations Center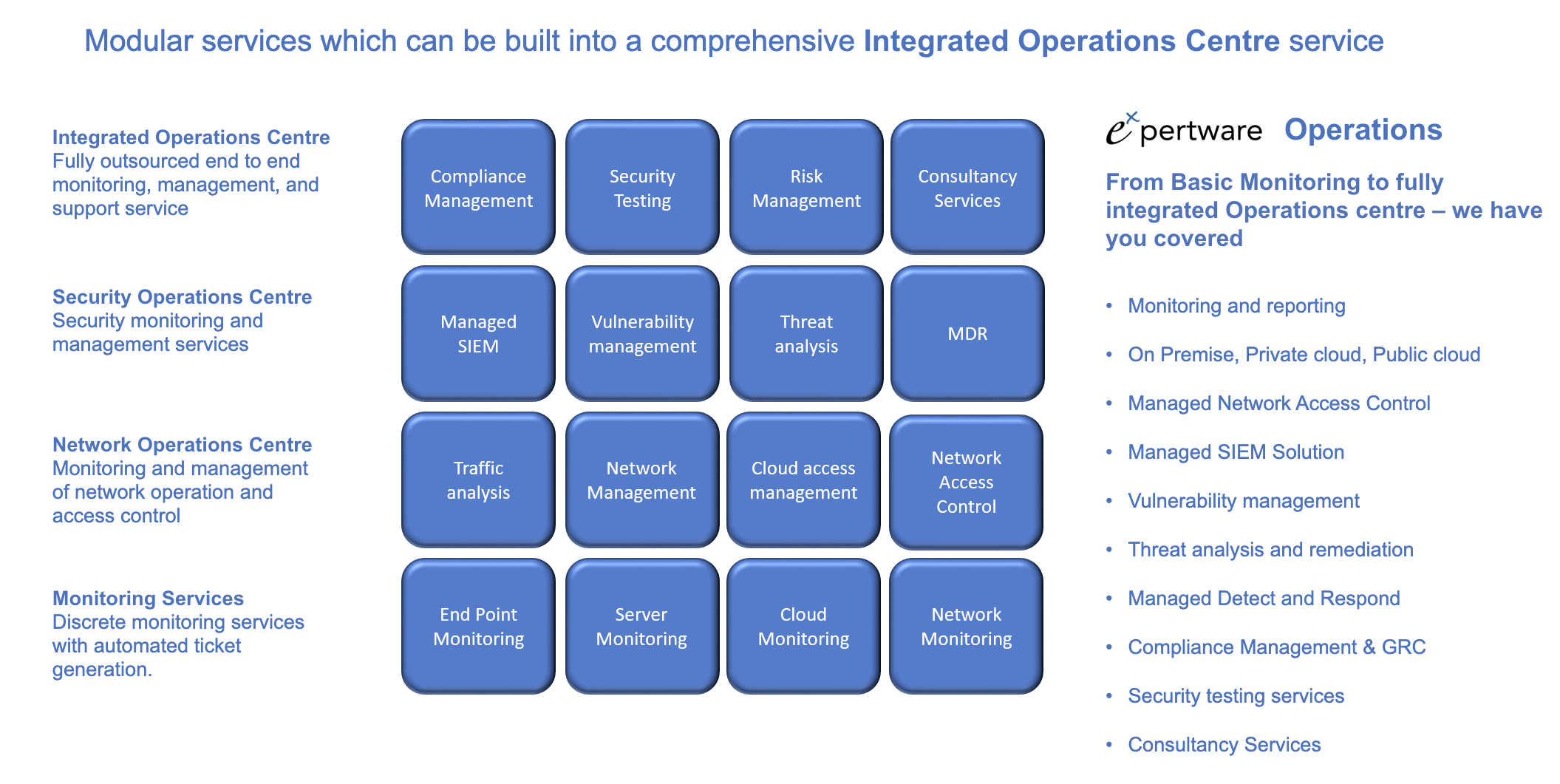 Next Generation SOC
Next Generation SOC
Network
Operations
Centre
Network Operations Centre
Security
Operations
Centre
Security Operations Centre
IT
Operations
Centre
IT Operations Centre
Our Experience
With over 15 years of experience in the field of IT architecture and managed services, we are confident that we can offer to our customers a team with a very strong technical knowledge and a deep understanding of the IT architecture models and solutions in place. Our people will become a trusted part of your team.
For each customer, there is a solution architect supervising the activities of the operation team guaranteeing a continuous review and optimization for monitoring and alerts, automated response flows and ensure rapid responses, but always under the guidance and oversight of our expert technicians.
We aim to provide state-of-the-art SIEM services to our customers so that they can continue their business safe, in the knowledge that strong protection is in place.
Integrated Solutions
Integrated 24*7 operation centre.
Analysis of IT architecture design to select the best SIEM solution and processes to meet your business objectives and needs.
End-to-end collection of monitoring data, events and alerts.
Human and AI analysis of event data.
Real-time global threat searches and patch automation
Operational management for KPIs and executive dashboards.
Our added value
One stop-shop for configuration, monitoring, analysis, and event management.
Strong competences, certified engineers (SQL Silver Data Platform, T-SQL/SSRS/OLAP, Business Objects, SAP BW, Elastic).
Can-do attitude, accepting and completing difficult challenges.
Cost-efficiency combining near-shore with on-site resources and eliminating overlapping roles through our integrated operations centre initiative.
---
Click on the link below to schedule a call with one of our subject matter experts.

Let's have a talk
Set up a meeting